Eumundi Frangipanis (also known as E-Frangipanis) is a plant nursery specializing in frangipani plants and trees.
Our History
We started collecting and propagating frangipanis on the Sunshine Coast in 2007. In the beginning, we were located north of Noosa in Boreen Point. We moved to Cootharaba in 2008 and then started building our new nursery in Eumundi, on the Eumundi-Noosa Rd in 2010.
Our Location
Eumundi is located on the Sunshine Coast, Queensland, Australia. It's about 1 hour up the M1 highway from Brisbane (North Pine River), 2 minutes east of Eumundi and about 10 minutes west of Noosaville.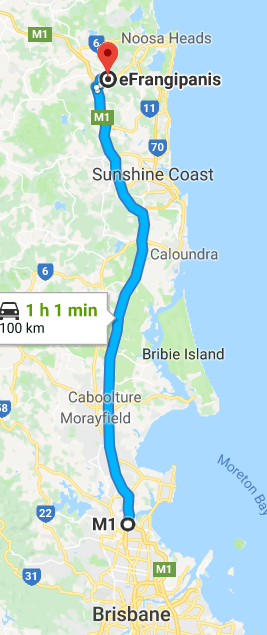 Our Varieties
We have more than 3000 frangipanis which includes more than 500 trees (over 1 metre tall). Our frangipanis range from new seedlings to trees up to 3 metres tall.
We have approximately 7 or 8 species of frangipanis at the nursery. I would say 3 of the species fall into the category of being difficult to propagate and not so popular so we only occasionally make them available.
We have about 60 varieties of frangipanis at the nursery. We have decided to sell off 30 to 35 of these to focus on our most favourite 25 to 30 varieties.
Our Top 5 Frangipanis
At the time of writing this (May 2022) I would say my top five frangipani varieties are:-
5 – Bubblegum (Pretty baby pink flower. Scented. Hardy.)
4 – Common White (Traditional colours. Scented. Hardy.)
3 – Pudica White (Thick foliage, in flower for about 8 months a year)
2 – Razzmic Honey (Colourful flower with shades of red and orange. Scented. Hardy.)
1 – Singapore (Big beautiful scented flower. Glossy leaves)